It's been a truly amazing couple of weeks for my Pride book. And while authors are, obviously, always happy to see their books do well, this book is especially close to my heart and seeing it be so well-received makes me happier than I can say. Against a backdrop of rising racism, islamophobia, sexism, ableism, homophobia and transphobia, books that celebrate diversity, equality and freedom are more important than ever. I am so very grateful to to all the awards juries who have recognized my Pride book, and to everyone- booksellers, librarians, teachers, bloggers, reviewers- who is helping getting it into the hands of young readers.
Here are a couple of photos- Pride is a Stonewall Honor book! I still can't quite believe the company my book is keeping in this second photograph- so honored to see it alongside these wonderful novels.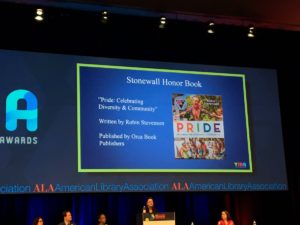 While my head was still spinning from this (I was totally gobsmacked and basically burst into tears when I got the phone call), I learned that Pride had also been selected for the USSBY Outstanding International Books list for 2017. Nine books from Canada were chosen (and we have A LOT of amazing books in this country). Here's a very cool map that shows where all the USSBY books came from this year- Pride is the little blue marker on the west coast of Canada! And here's a bookmark that lists all the books chosen- lots there that I haven't read yet, all getting added to my (impossibly long and rapidly growing) reading list.
And then I found out that Pride was also a Rainbow List selection (along with my YA novel Under Threat) and an OLA Best Bet. Which is all just amazing and wonderful and exciting.
I just returned yesterday from a week away, at the Ontario Library Association Super Conference (which was so much fun- librarians! publishers! booksellers! authors!- my people!). While I was in Toronto, I had some wonderful opportunities to visit schools and talk to kids about Pride… and their openness, compassion and sense of fairness gives me hope for the future. There's a protest sign I've seen photos of lately that says IF YOUR GENERATION BUILDS A WALL, MY GENERATION WILL TEAR IT DOWN. I believe it. Talking to kids and teens gives me so much hope for the future.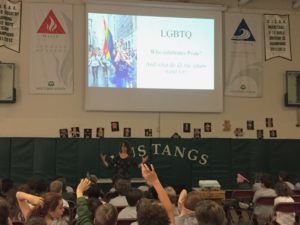 I also had an opportunity to lead a workshop for thirty teachers and principals who are planning to start GSAs- Gay-Straight Alliances- in their schools. LGBTQ kids and teens have such courage, and it is so inspiring and encouraging to meet adults who have their backs and are working to make their schools safer, more inclusive and more supportive for everyone.
These are hard and rather dark times, and I know many kids are struggling. Allies are more important than ever and I am grateful that there are so many of them within our schools and within the world of children's books. And as always, young people are leading the way– so I will end with these words, on the arms of of one teenager… Hope is so much stronger than fear.