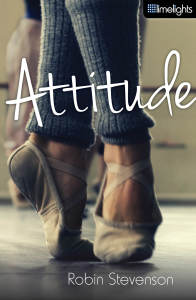 There's more to ballet than pointe shoes and tutus…
When Cassie comes to Vancouver from Australia for an intensive summer program at a prestigious ballet school, she finds it hard to fit in. A clique of girls who have been at the school a long time don't want the newcomers to get any attention. At first Cassie tries to go along to get along, but when she realizes that some of the visiting summer students are being bullied and threatened, and that she herself is being sabotaged, she finally speaks out—and finds out how far some girls will go to succeed.
Want to read more about the Orca Limelights series and download a sample chapter? Visit the Orca Limelights page!
---
Reviews
"Stevenson creates an authentic picture of what it is like for young dancers participating in ballet programs…The girls combat bullying, homesickness, and multiple physical and emotional challenges, all of which are realistically and compellingly portrayed. The novel is engaging and rich with detail about the competitive world of aspiring dancers, and readers who are dancers, or who have an interest in dance, will appreciate this fascinating behind the-scenes look at ballet…This innovative series offers something for all kinds of readers whether they are directly involved in the performing arts or not. They are short, fast-paced and well executed—stories perfect for fans of performing arts-focused television shows such as Glee." (Canadian Children's Book News )
"Shows the challenges teens have when involved in any extra-curricular activity at the highest level." (Resource Links )
"The relationships felt true in this book…Any child involved in a competitive sport will relate to the way these girls pursue their passion." (5minutesforbooks.com )
---
Awards