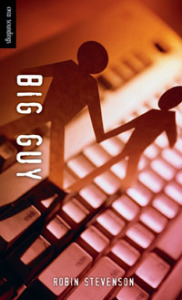 On-line, you can be whoever you want.
That picture I sent? It was taken last year, before Mom left. Before I packed on all this fat. That was a good eighty pounds ago though: you wouldn't even recognize me if you saw me now. I barely recognize myself.
Derek thinks he might be falling in love. The problem is, he hasn't been entirely honest with his on-line boyfriend. Derek sent Ethan a photo taken before he got depressed and gained eighty pounds. Derek hasn't been honest with his employer either. When he lied about his age and experience to get a job with disabled adults, the last thing he expected was to meet a woman like Aaliyah. Smart, prickly and often difficult, Aaliyah challenges Derek's ideas about honesty and trust. Derek has to choose whether to risk telling the truth, or to give up the most important relationship in his life.
(Young adult fiction in the Orca Soundings series)
Download the free Teachers' Guide!
---
Reviews
"engrossing and heartfelt… deals with controversial and emotional issues with sensitivity and realism." (Canadian Materials, June 2008)
"Complex themes handled very well with humor and directness, this book would be a good addition to a high school library." (Puget Sound Council, March 2011)
"a fast read that should appeal to any reader looking for a story of self-acceptance and the determination to carry on." (TeensReadToo.com, September 1, 2008)
---
 Awards
Canadian Children's Book Centre– Best Books for Young Adults (Hi-Lo) 2009
---
Alternate Covers