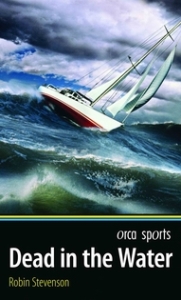 Simon "Spacey" Drake is determined to become a long-distance sailor. He signs up for a week-long live-aboard sailing course which takes him and three other students around northern Vancouver Island. Rough weather and sea sickness are bad enough, but the real trouble begins when Simon and another student stumble upon abalone poachers— men who are illegally harvesting a threatened species of shellfish. Unfortunately, the poachers have far too much at stake to ignore the teens' discovery. Simon has always believed that the only person you can count on is yourself, but they will have to work as a team if they are to survive.
Sports adventure for ages 10+
Download the free Teachers Guide!

---
Reviews
"A smart, fast-paced read." (BC BookWorld, Summer 2008)
"Any teen interested in sailing will love this book, but it will prove especially popular with those struggling readers who are learning about how reading can be exciting and absorbing." (Resource Links, vol 13, #13)
"Stevenson, an experienced sailor, delivers plenty of realistic, gripping detail about handling a boat in screaming winds and crashing waves, as well as a solid story about a crucial environmental issue." (Booklist, March 2008)
"A very engaging suspense filled fast read." (Teen Scene from Wright Memorial Public Library, August 2008)
"A fast-paced sailing adventure…. a good choice for reluctant readers who like their chapters short and action packed." (Star Phoenix, Saskatoon, 2008)