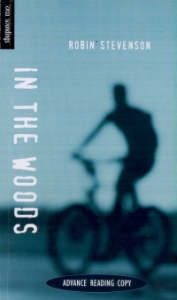 Why would someone abandon a baby?
When Cameron rescues a baby abandoned in the woods, everyone says it is a miracle. A stroke of luck that he just happened to be there, riding his bike along that trail and heard the baby's cry. But Cameron has a secret: It wasn't just luck. He was there because his twin sister Katie begged him to go. Did Katie know about the baby? Is she covering for someone? At first Cameron just wants some answers… but once he knows the truth, he has to decide what to do with it.
(Young adult fiction in the Orca Soundings series)
Download the free Teachers' Guide!
---
Reviews
"A fast-paced and engrossing read… Stevenson deals with mature issues, including sexual abuse and teen pregnancy, in an accessible fashion… In the Woods is an interesting exploration of sibling relationships and family responsibility that will appeal to both genders. Recommended." (Canadian Materials, September 2009)
"While packing in lots of facts about teenage pregnancy, this fast read is more than a problem novel. Cameron's seething jealousy of his gifted twin, her failure, and his growing bond with his sister– and his niece– will hold readers." (Booklist, September 2009)
"In the Woods takes readers quickly into the emotionally charged situation, and keeps them on the edge of their seats right to the end."(Sally Kruger, teensreadtoo.com, October 2009)
"A must-have for school libraries." (Ruth Cox Clark, madchatterya.blogspot.com)
"Cameron is a self-deprecating, funny, and honest narrator… A great pick for reluctant readers. The story is engaging and the prose accessible." (jlg monthly, January 2010)
"The plot moves along fairly quickly, and the characters are well-developed, especially Cameron. I could hear his voice and was with him every step of the way.The ending of the novel is particularly moving and not, perhaps, what one might expect. The issue of teen pregnancy is dealt with frankly, but without judgement, and with compassion." (Canadian Teacher Magazine, May 1, 2010)
"Good for students who are interested in reading about topics that are serious however need a book that has a more accessible reading level." (Resource Links, October 1, 2009)
"The easily accessible story presents some compelling and complicated issues surrounding teenage pregnancy." (The Horn Book Guide, April 1, 2010)
"Recommended where hi/lo readers are needed in high schools." (Tri State Young Adult Book Review Committee, January 1, 2010)
---
Awards
2010 Junior Library Guild Selection
2011 Canadian Children's Book Centre "Best Books"