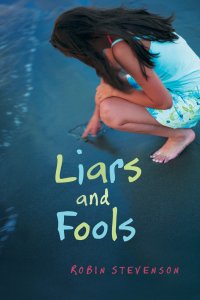 You don't need ESP to spot a fraud….
Fiona's life changed forever when her mother disappeared in a South Pacific sailing accident. A year later, everyone tells her it is time to move on, To Fiona, moving on means leaving her mother behind-something she has vowed never to do. But Fiona's father has started dating again. His new girlfriend, Kathy, is a professional psychic who claims she can predict the future and communicate with the dead. Fiona is sure she is a fraud, although she secretly longs for her abilities to be genuine. So, with the reluctant support of her best friend Abby, Fiona sets out to put an end to her father's new relationship… by trying to prove that Kathy is a liar.
Fiction for ages 9-13
Listen to Nikki Tate-Stratton discussing the book on CBC radio!
---
Reviews
"Throughout the book there are moments of really subtle humour…. Fiona's voice is absolutely authentic… She is so well drawn as a character that you can't help but empathize… A great read." (Nikki Tate-Stratton on All Points West, CBC radio, Feb. 2011)
"In this sensitive depiction of grief and acceptance, Fiona's solid voice captures a flux of emotions… Stevenson adds further layers of interest by incorporating Fiona's British Columbia surroundings, the teen's own love of boating, and a look at several belief systems." (Kirkus, Oct. 2010)
"The major themes of loss, mourning, and grief in Stevenson's work are fully realized… Liars and Fools is an expressive story about a young girl trying to come to terms with the world around her without her mother by her side… Stevenson's novel brings about complex realizations of how both children and adults cope with loss." (Canadian Materials, Sept. 2010)
"Fiona is a believable character trying to deal with her grief, even when others feel like it is time to move on. Her relationship with her best (and only) friend, Abby, is realistic, and the banter between the two girls adds humour." (Booklist, Nov. 2010)
"Stevenson has done a great job showing the angst of a young girl who is lacking control in so many sections of her life. This book will appeal to younger readers, epecially those who can empathize with the journey Fiona is on." (Resource Links, Oct. 2010)
"Allows readers to vividly empathize with Fiona…All of the characters are richly developed, and although it is sad in parts, the story never gets overly melodramatic and the plot moves at a quick pace. Liars and Fools is an important coming-of-age story that delves into how teens deal with the grieving process…A good, solid dramatic story." (VOYA, December 2010)
"In this perceptive novel, Stevenson captures the intensity of Fiona's grief and her passion for the sea. The questions haunting the heroine– is there a way to communicate with the dead? Did her mother really write "her own ticket" for her death as some people claim?– are gracefully addressed in a way that will inspire readers to draw their own conclusions." (Publishers Weekly, October 2011)
"Fiona's voice is believable and her grief is powerfully and sensitively portrayed. Her anger, guilt and sadness are strongly emotional without being depressing and truly drive the plot. Other characters are well-developed with their own emotions, beliefs, and needs while Fiona's love of sailing and the setting of coastal British Columbia add to the atmosphere." (Puget Sound Council for Reviewing Children's Media, February 2011)
---
Awards
OLA Best Bets for Children 2010
Chocolate Lily Award nominee 2011