Pride. It looks like a party… but it began with a riot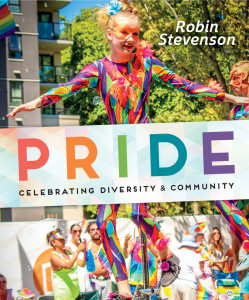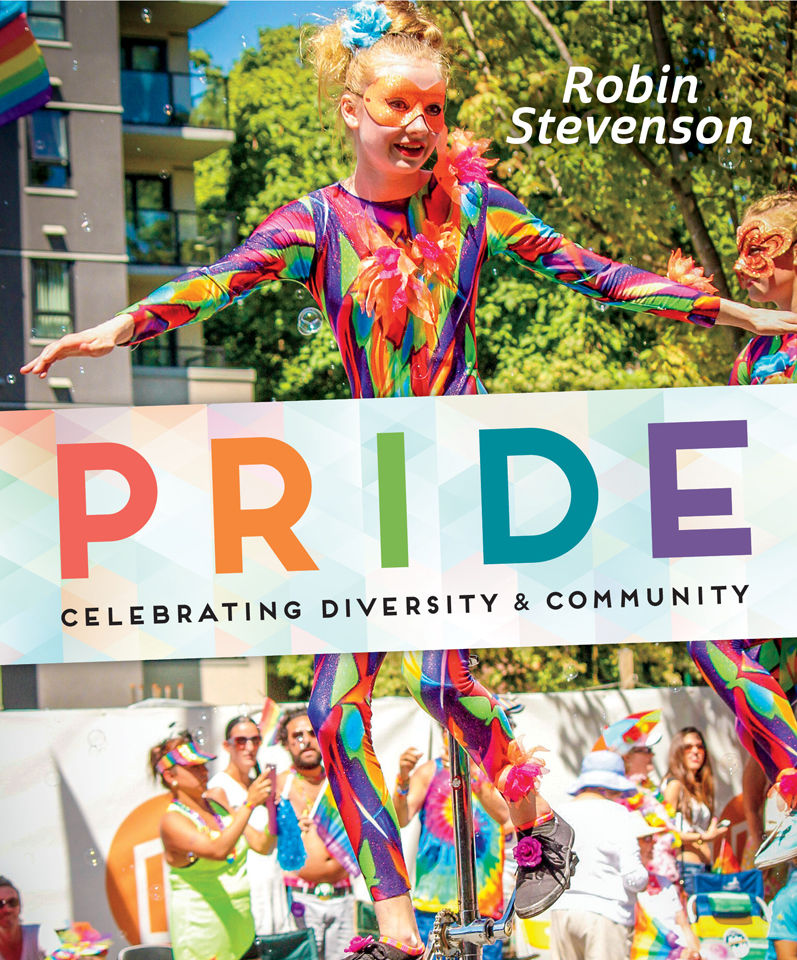 .
For LGBTQ people and their supporters, Pride events are an opportunity to honor the past, protest injustice and celebrate a diverse and vibrant community. The high point of Pride, the Pride Parade, is spectacular and colorful. But there is a whole lot more to Pride than rainbow flags and amazing outfits. How did Pride come to be? And what does Pride mean to the people who celebrate it?
Nonfiction for ages 9-14  
See the trailer, check out some of the photographs, or read more reviews!
Get the free Teacher's Guide!
Listen to Robin talking about the book and reading an excerpt!
---
Awards and Honors
Stonewall Honor book 2017
BC Book Prize (Sheila Egoff Award) finalist 2017
Rocky Mountain Book Award Nominee 2017
Red Maple Finalist 2017
Bolen Books Children's Book Prize finalist 2017
Red Cedar Nominee 2018
Hackmatack Award Nominee 2018
Rocky Mountain Award Nominee 2018
Information Book Award Nominee 2017
OLA Best Bets 2017
USSBY Outstanding International Books 2017
Rainbow List 2017
TriState Review Committee's 2017 Books of Note
Reviews
****/4  "Stevenson… has done a remarkable job of examining Pride in its many iterations and global contexts while also making this history accessible to younger audiences. Pride is a fantastic achievement, a book that gives serious attention to often ignored groups within LGBT history…While many books on sexual minorities fail to recognize non-normative gender identities, Stevenson dives right into the complexities of intersex and transgender individuals and their struggles to fit into gay and lesbian movements…. Stevenson ensures that readers will better understand Pride and history on a global scale….Of course, what makes this book suitable and relevant to young readers is the emphasis that Stevenson places on youth involvement in contemporary and historical celebrations and activism. A number of the personal accounts and quotes throughout the book are also from young people. This is an incredibly detailed account, considering the short page count, and Pride should be shelved in school libraries and classrooms alike…Highly recommended."  (Read full review: Canadian Materials, January 8, 2016)
"Informative…Positively festive in its attitudes and outlook, this book more than lives up to the word celebrating in its subtitle." (Booklist – March 1, 2016)
"Upbeat and matter-of-fact.I can see this book nestled between Canada Day and Thanksgiving in the celebrations section of the library, filling a gap… As useful and appealing as this book will be to a general audience, there will be another group of readers seeking it out with more focus. Not every kid, even in this country, lives in a joyous climate of acceptance, and books are often a place where they find information and community. Much of this is provided in the form of individual vignettes. These stories, sad and happy, are where vulnerable preteen kids may see themselves." (Quill & Quire – March 1, 2016)
"LGBTQ culture and rights are covered through the prism of Pride in this timely work…Using Pride as a way to talk about LGBTQ gives the information a new slant…The appropriately rainbow-themed design features plentiful photographs, both black-and-white and color, in a lively design…This attractive work will be welcomed by readers searching for guidance and hope." (Kirkus Reviews – February 1, 2016)
What readers are saying (from reviews on LibraryThing and Goodreads): 
"Wow. So much better than I imagined. This is a celebratory book, a work of joy, and an offering of love."
"Pride – Celebrating Diversity and Community is a gorgeous, upbeat look at the history of LGBT rights and the traditions/celebrations associated with Pride events the world over.… Truly a visual feast…. a great resource for gay or questioning kids at that age where peer pressure is at its worst and something that lets them know they aren't alone can be a lifesaver."
"This is a terrific book, not only for its intended audience of young adults, but for everyone."
"…a colourful, inclusive book on the LGBTQ+ community… presented in an engaging non-judgemental style that is both informative and incredibly moving… a good primer for anybody looking for a better understanding of the history of the LGBTQ community."
"A great addition to the world of books about diversity and equality…. bright and attractive and filled with inspirational quotes."
"This book was an amazing reminder to me to remember what Pride is about and how we got this far… It made me long for June when I can get out and celebrate Pride with my community, and maybe thanks to Stevenson, this year with a little more respect and honor for the reason we have Pride now."
"…an empowering resource for allies, organizers, and individuals new to pride events."