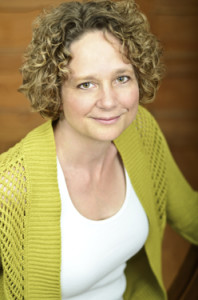 I first met Toronto author Karen Krossing in 2013, when her novel Cut the Lights and my novel Attitude were released together, along with (Tom Ryan's Totally Unrelated) as the first novels in Orca's Limelights series. Over the last couple of years, I have had the pleasure of getting to know her and her writing.
Karen has a new YA novel out this spring– Punch Like a Girl. It is a story about a topic that is close to my heart: sexual assault. I spent ten years working as a counselor, first in a hospital-based sexual assault treatment program in Ontario and later in a community sexual assault center in BC. The majority of my clients were teens and young women. After decades of feminist struggle, male violence against women continues to be a huge problem. It's something we need to talk about, and I think Karen's new book has something important to add to that conversation.
I recently read an advance copy of Punch Like a Girl, and had the privilege of interviewing her about it. Here's our conversation:
Me: Karen, in another interview you said, "I write books to understand the world around me, focussing on stories with social justice themes." What made you decide to write the story of a survivor of sexual assault? How did writing this story influence or deepen your understanding of male violence against women?
Karen: I started my first draft by writing about a witness to the aftermath of sexual assault, because that's my point of view. Both my daughter and my mother have experienced sexual assault, and the character of Tori began as a teen girl who develops a hero complex after her friend is raped at a party. When this plot became confused and finally failed, Tori became the one who experienced the assault.
For me, writing the story became a way to understand the trauma and recovery process from the inside so I could understand something about what my daughter and mother had faced. But it was also about the building of a hero from the ashes of a victim, which is Tori's journey. Writing this book gave me hope that our society is moving toward a stage where people are ready to speak out together about violence against girls and women. Tori and I both learned about the power of community and how to punch back.
Me: I was curious about Tori's friends Jamarlo and Alena, and her brother Joel. All are puzzled by Tori's behaviour, but they respond to it very differently. How do you think gender – and these characters' ideas about gender – play into those differences?
Karen: This is a tough question for me. Dare I say that I think of my characters as human beings, rather than in gender roles? So, here goes: Jamarlo is personally offended by Tori's attempts to rescue him because his own insecurities make him think he's less of a guy if he needs to be rescued. Alena is confused by Tori's violent behaviour and later becomes angry. She sees violence as nonsensical, dangerous and childish. Joel is amused by Tori's violent behavior, and even proud of her for being tough. So, upon reflection, I see that Jamarlo's views on gender roles play a big part in his reactions, while Alena and Joel symbolize a female and male view of violence respectively. How interesting to analyze one's own writing!
Me: The butterfly on the cover is a striking image, and its fragility and its strength fit beautifully with the themes of the story. I don't want to give away too much – but a butterfly is an important part of a moving and pivotal scene in the story. Where did this idea come from?
Karen: The butterfly scene came from a real-life interaction at a neighbourhood park. I won't get into the details of what actually happened because it will reveal plot. But I will say that I came home from the park excited. I was writing my first draft at the time, and the butterfly incident opened up the story for me, gave me new symbols to explore and gave me new scenes to write! I guess it's an example of how real-life can inspire fiction.
Me: Punch Like a Girl is a contemporary YA novel, but you have also written fantasy and speculative fiction. Does your writing process change at all, depending on the genre? Have you encountered different challenges?
Karen: With fantasy and speculative fiction, a challenge is how to build a believable world. With realistic fiction, I can assume readers know and understand aspects of my story world. For both types of writing, I go through a similar process for understanding my characters and building my plot, but I find that writing fantasy and speculative fiction has a more detailed world-building process. It's similar to building a world for a historical fiction, in that there's research needed, but my "otherworlds" also need imagination to flourish.
Me:In 2014, your middle-grade novel – Bog, a 2014 Ontario Library Association Best Bets choice – was released. And the year before, you gave readers Cut the Lights, in Orca's Limelights series about teens in the performing arts. Can you tell us what are you working on now?
Karen: I'm writing a teen novel that tackles another difficult topic – abortion. In between the rhetoric from both sides of the emotional abortion debate are teen girls who are facing challenging decisions about abortion. I'm writing about the weight of society's judgments on an apprehensive teen girl with an overwhelming decision to make. I'm also researching a teen novel about celebrity culture and body image.
Thanks so much Karen! And for those of you reading, if you want to learn more about Karen's book, check out the trailer. And you can find Karen on Twitter.