I recently shared the cover for my spring 2016 novel, Under Threat, on Twitter and Facebook- and was pleasantly surprised by the reaction. There was a troll or two, expressing the usual bigotry (I am corrupting youth and so on), but there was also lots of excitement, interest and support.
Many people apparently agree that we need more LGBTQ content in YA.  Lots more! And people want to see more teen novels about girls in love with girls. This makes me very happy.
Here's the cover in question. I think it's beautiful: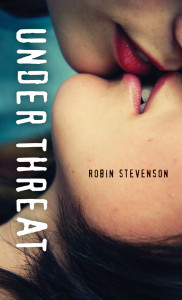 Several of my earlier books have LGBTQ characters. Since they don't have girls kissing on the covers, I thought I'd make a little list to make them  easier to find:
Out of Order:  This was my first novel and in hindsight, I regret that the cover and back cover copy don't make it clear that it has queer characters. The main character, Sophie, is starting to realize that she is bi. Her friend Max (who I adore and who deserves her own book)) is out as a lesbian.
Big Guy: This one is in Orca's Soundings series- short fast reads. It's about secrets, lies, online relationships, boys and body image. The main character is a gay male teen.
Inferno: Dante, the main character, is queer. This one was a Rainbow List selection, which I am super proud of. I LOVE the Rainbow List, and if you are looking for more teen novels with LGBTQ content, it is a great place to start.
There are also minor queer characters in many of my books– in Liars and Fools,  for example, one of the supportive adults in Fiona's life is her aunt's gay roommate, Tom.  And in The Summer We Saved the Bees, the family that Wolf' stays with in Vancouver consists of a lesbian couple and their two kids.
There are some great lists online if you are looking for LGBTQ fiction. Here are a few places worth browsing:
The annual Rainbow List of recommended LGBTQ books is put out each year by the American Library Association.
Lee Wind keeps some great up-to-date lists here: I'm Here, I'm Queer. What the Hell Do I Read? 
The Gay YA has extensive lists, interviews, cover reveals and reviews.
Here is a list that includes some lovely books for younger kids.
And here is a link for the Bank Street's lists for all ages. 
While we DO need more LGBTQ content in YA and children's literature, there are lots of great books out there already–  and there are more being published every year. In my next post, I'll share a list of some of my personal favorites. A top ten list, or maybe fifteen or twenty…