Pride has always been both a protest against oppression and injustice, and a celebration of our beautiful, resilient, diverse community. We fight for change, for freedom, for equality. We celebrate our victories and our loves and our identities.
But I've never experienced that duality as intensely– as viscerally– as this June.
I started writing my Pride book right before Pride 2014, and much of my time over the past two years has been spent reading and watching documentaries about the history of LGBTQ rights, talking to kids and teens and parents and activists about what Pride means to them, connecting with queer people from all over the world, looking through thousands of photos of Pride events, and remembering and writing about my own experience of coming out and finding community.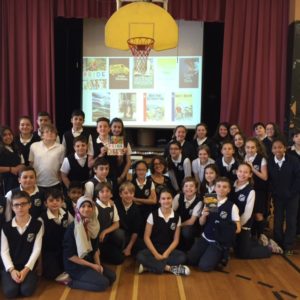 In the last two months since the book came out, I've visited libraries and schools and community groups in BC, Ontario and Quebec and spoken about Pride with hundreds of young people. Kids and teens have blown me away with their insight and courage and passion for social justice. Some talked about their efforts to start or support GSAs in their schools. Others shared their own stories of coming out, or told me about the siblings, friends or parents who are queer. One young student told me, through tears, that they'd never heard anyone talk about this subject in their school before. Kids as young as ten or eleven asked for advice on how to come out to their parents.
In my own community, a group of young home learners have been gearing up for Pride: hosting Pride parties, tie-dying rainbow T-shirts, making a banner for the parade, helping raise money for LGBTQ refugees, and organizing gender and sexuality workshops for kids, teens and families.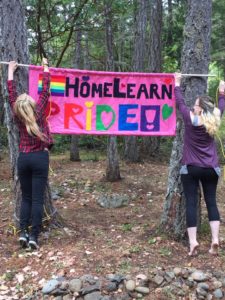 I have been so impressed with all these young people, both the LGBTQ kids and their many allies. I think I was beginning to feel hopeful that world really had changed– that although there were still struggles, things really were getting better, that this generation of young people would be growing up and coming out in a safer, more supportive world.
Then the mass shooting in Orlando happened. 49 people killed, mostly young queer people of color, murdered in what should have been a safe space.
On Twitter and Facebook, friends tried to make sense of the senseless. They talked about their first time in gay bars, about what queer spaces had represented to them, about how to respond to this hate crime. A few days ago, I was in Orlando for ALA. I went to a memorial service and listened to people speaking about their devastation and their grief, and about the need to keep fighting for change, against homophobia, against violence. I spoke to a former police officer who told me that after the shooting, she'd gotten rid of her last gun.  I met people whose students had been at Pulse that night, who had lost friends, who couldn't imagine feeling safe again. I read, many times, the list of names of those killed. So many names.
And the next day I was in Toronto. It was the weekend before Pride, and Circus So Gay was in full swing. 
I walked around, taking it all in, watching a drag queen dancing on a stage, feeling so much love for this community. And then a stranger said hi, how're you doing- and I teared up. Sorry, I just came here from Orlando, I told him, and all this is… I waved my hand around at the crowd. He just nodded. I've cried every day since it happened, he said.
It's emotional whiplash.
Here's a few things that have happened in the last couple of weeks. The one year anniversary of US marriage equality was followed by yet another anti-LGBT bill. Surrey has its first queer prom. In Seattle, a trans activist was attacked and beaten unconscious after attending a benefit for the Pulse shooting victims. Trudeau is about to be the first Prime Minister to march in Toronto's Pride parade— and Vancouver's. Turkey banned the Pride Parade and activists who protested this were met with tear gas and rubber bullets.  Yesterday Ontario announced the introduction of gender-neutral driver's licenses— and just this morning, the Obama administration announced that they will end the discrimination against trans people in the military. But tonight I'm doing a talk ab0ut Pride, and I know there'll be teens in the room whose parents don't accept them, who've been bullied at school, who are afraid to come out. Because it still isn't safe.
Protest and celebration. Victory and backlash.
Stonewall was 47 years ago. And yes, we've come a long way. And we should celebrate all the victories, large and small– loudly, and with all the rainbows.
But we shouldn't lose sight of the fact that we still have so very far to go.