So what do I do when I'm not writing? I work with other people in my community to sponsor refugees to come to our beautiful city of Victoria, BC.
Canada has a unique system of private refugee sponsorship. Of course, sponsoring one refugee doesn't address the systemic problems that displace so many millions of people around the world– but for the refugee being sponsored, it can mean the difference between hope and desperation. It can mean a chance at a future in a safer place. And for some, it can mean the difference between life and death.
I am currently part of a group which is sponsoring a very vulnerable refugee- a young woman who is still in her teens and has been on her own as a refugee for over two years already. You can help by doing one of my very favorite things– buying books!
For every copy of Stepping Stones purchased through the buy button at the bottom of this page, $10 will go to support the sponsorship of this young woman.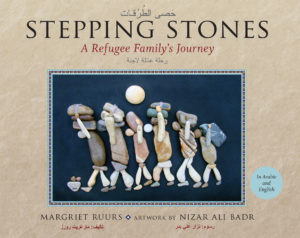 This unique picture book makes a beautiful gift. It was inspired by the stone artwork of Syrian artist Nizar Ali Badr, and written by Canadian writer Margriet Ruurs. Stepping Stones tells the story of Rama and her family, who are forced to flee their village to escape the ravages of the civil war raging ever closer to their home. With only what they can carry on their backs, Rama and her family set out to walk to freedom in Europe. Nizar Ali Badr's stunning stone images illustrate the story.
Here's the link to buy a copy:
And here's a link to donate directly to our fundraising page. 
You can also help by starting your own sponsorship group, by speaking up in support of refugees, by writing letters to your member of parliament to let them know you want the government to welcome more refugees, or by volunteering to support newcomers in your own community. Contact me if you want to know more!