I am available for author visits, school and library presentations, author-in-residence programs, Professional Development sessions, writing workshops and conferences*. All presentations, workshops and programs can be tailored to the needs of the particular group.  Please contact me to discuss your group's needs and for information about my rates and availability. I am happy to provide reference letters on request.
*I am a member of the Writers' Union- Canadian libraries and Ontario schools may be eligible for funded visits or subsidies. f you are in British Columbia, funding for artist-in-residence programs  may available to your school through ArtStarts. Schools can apply for grants to bring an artist into the classroom to work with students over a period of weeks or months. 
Pride: Celebrating Diversity and Community (grades 4-12)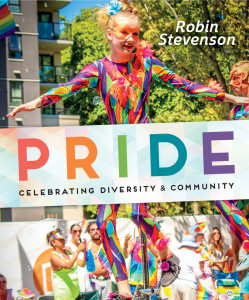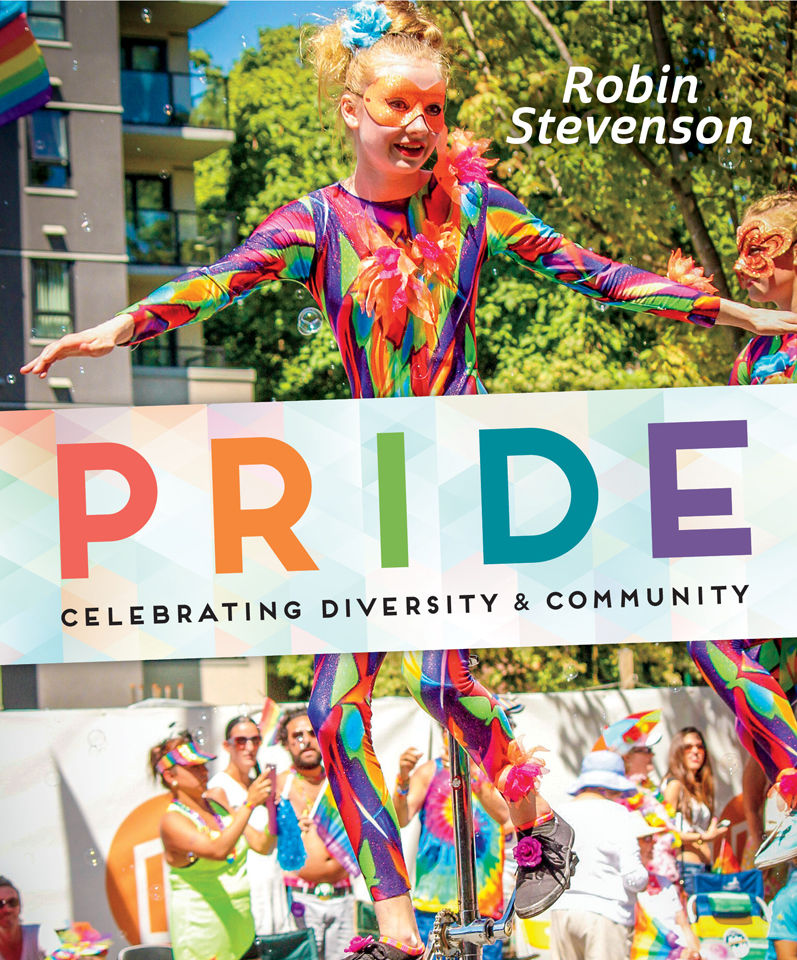 For LGBTQ people and their supporters, Pride events are an opportunity to honor the past, protest injustice, and celebrate a diverse community. The high point of Pride, the Pride Parade, is spectacular and colorful. But there is a lot more to Pride than rainbow flags and amazing outfits. How did Pride come to be? And what does Pride mean to the people who celebrate it? In this engaging and interactive presentation, Robin draws on her new non-fiction book, Pride: Celebrating Diversity and Community. She talks about the history of the LGBTQ rights movement and the challenges still faced by LGBTQ people and communities today. Using images and anecdotes from the book, Robin shares historical photographs, stories of contemporary kids and teens, and images of Pride celebrations from around the world. This session can be tailored to groups from ages nine through adult.
After a recent visit with a grade four class, the librarian wrote: "Thank you for your inspiring presentation yesterday. I was touched by your sincerity and the gentle way you challenged the children to think of social justice. In my experience, adults often undermine how strong children are and how important it is for children to think about their world critically. We had a very special group of young people in the room yesterday and I think they all benefited from the opportunity to be challenged and inspired."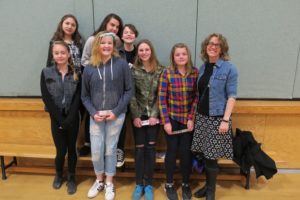 With 7th graders at Rossland Summit School, BC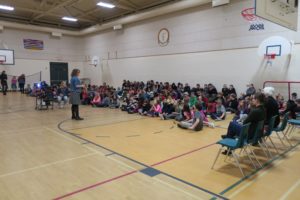 At Twin Rivers elementary school, in Castlegar, BC
Becoming a Writer: Finding & Telling Your Stories (grades 4-8; grades 9-12)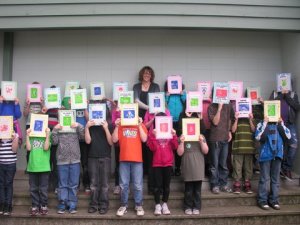 In this engaging presentation, Robin shares how she became a writer, where her ideas come from and what her creative process looks like. She discusses some of the challenges she experiences and share tips for young writers. She also facilitates a brainstorming exercise to illustrate how to develop  a story through an understanding of its characters. Students will work together to develop a character, explore possibilities for conflict, and uncover the myriad of story possibilities that this leads to. In this session, Robin shares her passion for the writing process and inspires students to pursue their own creative interests.
Creative Writing Workshops (grades 6-12; maximum 30 students):
Robin is ava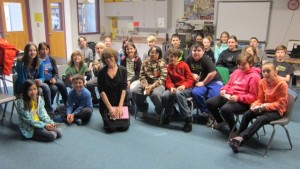 ilable to facilitate hands-on creative writing workshops for small groups. Participants will explore how they can use their own experiences and curiosity to create compelling writing and convincing characters; discuss strategies for finding story ideas; develop their skills at creating complex and believable characters; and discover how well-developed characters can help uncover new story possibilities.
The Art of Revision (grades 10-12):
According to Roald Dahl, "Good writing is essentially rewriting." Nabakov agreed, saying, "My pencils outlast their erasers." Hemingway rewrote the ending of Farewell to Arms thirty-nine times. And yet this essential part of the writing process is often oversimplified and reduced to proof-reading– or over-complicated and made mystifying. In this interactive and engaging presentation for high school students, Robin draws on her experience revising her own books as well as her role as an editor of middle grade and young adult novels. Students will learn how to take a rough first draft and make it shine.
Professional Development for Teachers
Want to learn more about LGBTQ youth and how to support them? Thinking about starting a GSA at your school? Curious about the history of LGBTQ rights? Interested in making your school more inclusive? With a background in social work and many years of experience as a group facilitator and university instructor, Robin is a dynamic presenter and skilled workshop leader. She is available to lead professional development sessions, presentations and workshops for teachers, tailored to the needs and interests of your group.